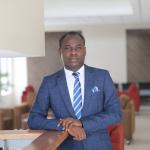 Celestine Kezie
Institute of Humanities
Celestine Chidozie Kezie Jnr holds a Bachelor of Arts degree in Philosophy (First Class Honours) from Imo State University, Owerri and a Masters in Philosophy from the University of Ibadan, where he is currently pursuing his PhD. His research interests span Metaphysics and Philosophy of Science, Philosophy of Media and Communication, and Applied Ethics in Artificial Intelligence (AI). His ongoing PhD research is on "Deontologism and the Nigerian Media".
He joined the Institute of Humanities (IOH), Pan-Atlantic University (PAU) as a faculty member in October 2016. At PAU, he currently teaches Ethics, Philosophical Anthropology, Logic and Critical thinking to undergraduate students. He has also taught Professional Ethics to Masters students at the School of Media and Communication (SMC) of PAU. He is currently a member of the IOH Management Board. He served the University as a member of Online Examinations Committee during the COVID-19 pandemic.
He is a member of West African Research and Innovation Management Association (WARIMA), Ethics and Technology Graduate Group (ETGG), and Association of Media and Communication Researchers of Nigeria (AMCRON). Celestine is very passionate about youth mentoring and he is committed to Social Transformation through Education.
Before joining Pan-Atlantic University, he lectured briefly at The Polytechnic Ibadan. He also worked as a researcher at the Carrington Executive Training School Ibadan, and as a journalist with the Western News Communications, Ibadan.