Online Event
Date: August 18th and 19th, 2022.
Theme: Promoting, Protecting and Preserving Human Dignity through Media Practices
Context: Intrinsic dignity is an inherent right of every human from conception until natural death; and the foundation for every human right. This status conferred, irrespective of circumstance or potential, imbues solidarity and cooperation toward human flourishing and the common good. Rights, laws and governments are at the service of the human person as a primacy of human dignity. The unfolding contemporary realities raise many questions on how humans fulfil the duties to respect human rights and uphold human dignity in solidarity with one another.
The media roles of education, mobilization and sensitization are called to function in promoting, protecting and preserving human dignity. From movies to broadcasting; citizen journalism to the digital ecosystem, how does the media communicate compassion, empathy, tolerance, value for life and human essence? How does the media treat the sanctity of life and bloodshed? How does the Nigerian media support citizens in expressing their needs that enable choice and control in decision-making? There is a sudden burgeoning devaluation and degrading of human beings in many forms: war, defamation, kidnapping and torture, ritualism, terrorism, banditry, and violence of all sorts.
The IOH Human Dignity Conference interrogates how the media can engender a safe space for every human, irrespective of class, gender, race, minority or majority. It examines the threats to human dignity and the main challenges faced by media practitioners in building an inclusive and stable society. The media communicates human dignity through different genres and forms, but to what extent do these measures restore human dignity in contemporary globalized spaces?
It will be a 2-day online conference on August 18th and 19th, 2022.

Abigail Odozi Ogwezzy-Ndisika holds a B.A. (Linguistics), PGD and MSc (Mass Communication) M.A. (Gender and Development); and PhD (Communication Arts). She started her career as an academic in the Department of Mass Communication, the University of Lagos in 2001 as a Lecturer II and rose to the rank of a Professor in 2016. She is the first female Professor in the Department of Mass Communication, University of Lagos. At different times, she had served as the Head of this Department.  She has worked on multi-sector projects and with several multilateral and bilateral agencies. Her work experience reveals her versatility and covers so many areas of human endeavour. Indeed, she has an enviable track record of work experience, a sure reservoir to gain immensely from. Her career trajectory has taken her to five continents of the world and still counting.  She is a visiting member of The Guardian editorial board; a Fellow of the Nigerian Institute of Public Relations; an associate registered practitioner of advertising; a member, of the Association of Communication Scholars & Professionals of Nigeria; and a Member, of the International Press Institute (IPI), Nigerian Chapter.  Professor Ogwezzy-Ndisika has attended various local and international conferences and published articles and books locally and internationally.
Rufai Oseni                                                                                       
Rufai Oseni is an accomplished Journalist, entrepreneur, global speaker, author, and Compere. He is the co-founder of Veonewsng.com and the Voice of the People radio station in Lagos. Rufai has worked at several radio stations across Nigeria namely, JFM Radio, Warri; Independent Radio, Benin; Unique FM, Ilesha; Radio Nigeria; Gold FM, Ilesha; OGBC, Ogun; and Cool FM, Lagos. Rufai is also a guest columnist on some national and online news platforms including Punch Newspaper, Prestige Newspaper, the Guardian, Champion newspaper and Thisday newspaper. Rufai is passionate about leveraging technology as a panacea for national development. Hence, He has mentored several startups in Nigeria and sits on the board of so many companies across Europe, Africa, and America with varying interests. An author of five books, his latest work, ''Veritas'' was recently featured on BBC world service, Rave TV, Channels TV and Vanguard newspaper.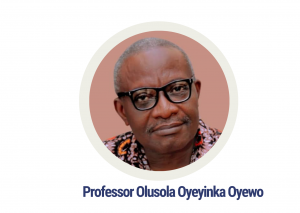 Professor Olusola Oyeyinka Oyewo                                                                                               
Olusola Oyeyinka OYEWO is a Professor of Organizational/Applied communication. He holds a Bachelor of Arts degree from the University of Ilorin, a Master of Arts degree and a PhD from the University of Ibadan, Nigeria. A former Journalist with the African Newspapers of Nigeria, Publishers of the Tribune titles, Oyewo has served in various capacities: as an adjunct lecturer across various Universities in Nigeria – University of Ilorin, Ajayi Crowther University, Lead City University, Babcock University, Bowen University, and Ogun State University; as an external examiner to several local and international institutions such as-Obafemi Awolowo University, Babcock University, Bowen University, Lagos State University, Cape Peninsula University, South Africa, and Catholic College University, Ghana. He is a member of the National Universities Commission's (NUC) committee on accreditation programs for various Universities in Nigeria. He is also a consultant/facilitator for the United Nations Children's Fund (UNICEF), Federal Ministry of Health (FMOH), Federal Ministry of Education (FME), and Oyo State College of Health Science and Technology.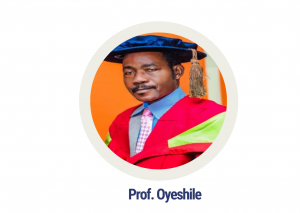 Professor Olatunji Oyeshile
Olatunji Alabi Oyeshile, PhD is a professor of African Philosophy, Metaphysics and Existentialism in the Department of Philosophy, University of Ibadan. His research focus in recent times has been in the area of African Socio-Political Philosophy where he has paid attention to the place of the individual within the community and also how to resolve some perennial problems in the area of religion, and politics and nationhood. He is a member of the Nigerian Philosophical Association (NPA), Nigerian Academy of Letters (NAL) and International Society for Universal Dialogue (ISUD). He is an Editorial Consultant for Philosophia: International Journal of Philosophy, The Philippines. He was a Visiting Researcher/Lecturer at the Institute of Philosophy, Leiden University, The Netherlands, from August to December 2019. He was Acting Head of the Department of Philosophy, the University of Ibadan from October 2008 to October 2010. He is the current Dean, Faculty of Arts, University of Ibadan.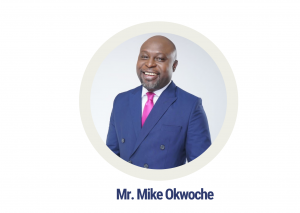 Mike Okwoche         
Mike Okwoche is an award-winning International broadcast journalist. He is a Senior Anchor and Head of Anchors at Television Continental (TVC) in Lagos, Nigeria. A graduate of Public Administration from the University of Maiduguri in Borno State. He holds a Master's Degree in Public Administration from the National Open University of Nigeria. He is an associate lecturer at the Nigeria Institute of Journalism (NIJ), Lagos as an instructor on Broadcast Presentation. He is the Country Director of Media and Communications for Mater Africa, an international NGO on humanitarian aid based in Italy and Nigeria. He is an Alumnus of the United States International Visitors Leadership Program (IVLP), a program he ran in Washington DC, Maryland, Massachusetts, North Carolina and California. He was the project coordinator of the Media Literacy campaign for the U.S. Department of State in Nigeria which was administered by AlumniTIES in Washington DC.  He is the President of the United States Government Exchange Alumni Association in Nigeria, an association created by the United States Mission in Nigeria to rally U.S. exchange alumni members in partnership to cause positive social change wherever they are. He has bagged the Newscaster of the Year award by the prestigious Nigeria Media Merit Award (NMMA) in 2019. He also won the Newscaster of the Year Award by the Nigeria Broadcasters Merit Award (NBMA) in 2014. Mike is the founder of Rewired Africa Network, a media content agency passionate about civic education, advocacy, Training and mentoring in Nigeria. He is married to Emem Okwoche with two lovely daughters, Elsie and Eliana.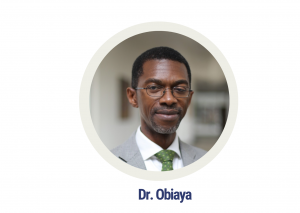 Ikechukwu Obiaya
Ikechukwu Obiaya is affiliated with the School of Media and Communication (SMC) of the Pan-Atlantic University in Lagos, Nigeria, where he lectures. He is also the director of the Nollywood Studies Centre, a unit of the SMC. His first and second degrees are in the English Language.  His PhD thesis is a study of the impact of state intervention, through the National Film and Video Census Board, a government parastatal, on distribution in the Nigerian film industry. Obiaya's research interest lies in the creative industries. He is also interested in audience analysis and has carried out some studies on the audience of the Nigerian video film as well as on technical workers in the industry.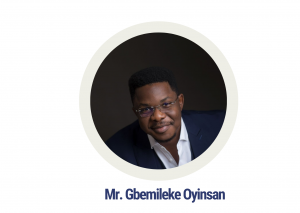 GBEMILEKE OSCAR OYINSAN
Oscar has over 17 years of industry experience in the Nigerian Entertainment/Media space. His vast experience cuts across Radio & TV Production, Compere & Hosting duties, Advertising & Media, and most recently, TechPreneur. Oscar has been at the heart of creating and crafting powerful award-winning stories for the ever-changing world of Advertising, Media and Entertainment in various administrative and creative capacities. His journey in radio as a Presenter and Producer began at UNILAG 103.1 FM, followed by Inspiration 92.3 FM (Nigeria's first Family Radio Station), BBC Media Action (Snr Producer of "Talk Your Own " and Presenter of "FLAVA" Magazine Radio shows) and most recently, City 105.1 FM where he was Director of Programmes. Oscar is a facilitator and founder at The MC Company created in 2016 to groom the next generation of MCs in Nigeria and beyond. Oscar holds an MSc in Media Enterprise from the Pan Atlantic University amongst other industry-recognized certifications and awards.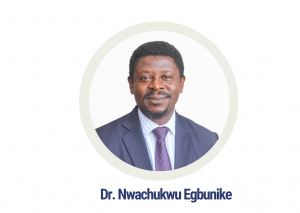 Dr Nwachukwu Egbunike
Dr Nwachukwu Egbunike is a Senior Lecturer at the School of Media and Communication, Pan-Atlantic University, Ibeju-Lekki, Lagos. He is also Global Voices' Regional Editor for Sub-Saharan (Western, Central and Southern) Africa. His research agenda encompasses digital media, youth political participation, digital democracy and authoritarianism. Since 2011, he has been active in Africa's online freedom of expression and digital rights space, as an advocate, journalist and digital media scholar. He is the author of four books including Hashtags: social media, politics and ethnicity in Nigeria, Lagos: Narrative Landscape Press (2018).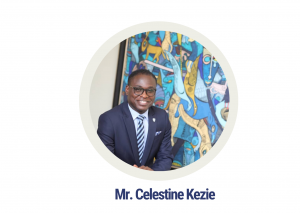 Celestine Kezie
Celestine Kezie is a Faculty member at the Institute of Humanities (IOH), Pan-Atlantic University (PAU), Lagos. He teaches Ethics, Philosophy and Logic, and Philosophical Anthropology. His research interests span Media Ethics, Ethics of AI, Metaphysics, and Philosophical Anthropology. He holds a Bachelor's Degree in Philosophy (First Class Honors) from Imo State University, a Diploma in Cyber Communications (Universidad Austral Buenos Aires, Argentina), and Masters in Philosophy (University of Ibadan) where he is currently pursuing his PhD. He is a member of the Management Board of the Institute of Humanities, PAU. He is also the Director of Eleko Study Centre, a centre for extracurricular activities for Pan-Atlantic University students.
Celestine is a public affairs analyst and political commentator. He writes for the media. Before joining PAU, he was a lecturer at The Polytechnic Ibadan, Oyo State, Nigeria. He was also a Researcher at the Carrington Executive Business School, Ibadan, and a journalist with Western News Communications, Ibadan.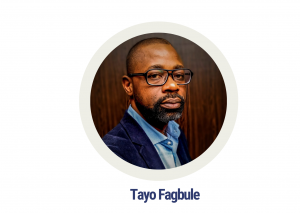 Tayo Fagbule
Tayo Fagbule is the Editor of BusinessDay, Nigeria's leading business daily newspaper. He has over a decade of experience working in the media industry. Before he was appointed editor in January 2021, he was editorial board chairman and deputy editor. He has been a senior Manager at WNT Capitas, a communications consultancy. He was the Nigeria correspondent for The Africa Report and Africa Confidential for two years where he wrote regularly on business, economics and politics in Nigeria and West Africa. During this period, he was a member of the editorial board of Financial Derivatives Company, Nigeria's leading investment research firm.
Before his career in journalism, he was the MBA director at Lagos Business School, a role he combined with teaching anthropology and analysis of business problems in the full-time MBA programme. He is a graduate of economics from the University of Lagos with an MBA from Lagos Business School, Pan-Atlantic University.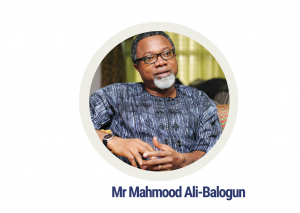 Mahmood Ali-Balogun
Mahmood Ali-Balogun, the film producer and director, is the current chairman of the Audio Visual Rights Society of Nigeria (AVRS), the collecting society for IP right owners in the Nigerian film industry. He is also the Managing Director of Brickhouse Media Limited and the Vice Chairman of the Oscars Selection Committee for Nigeria. Mr. Mahmood Ali-Balogun, who has been in the Nigerian film industry for close to three decades, has to his credit various feature films and documentaries. These include Tango With Me (2011), Dance of The Maidens (Traditional Marriage Rites) (2005), Berthing a Nation – Dividends of Democracy, Trafficking in Women and Children – The New Slavery (2002), Environmental Pollution in Nigeria (2003), Child Abuse in Nigeria (2001), Highlife – The endangered music Form (2002), and A Place Called Home (1999). He has been involved in various associations and bodies such as the Independent Television Producers Association of Nigeria (ITPAN), the National Association of Nigeria Theatre Arts Practitioners (NANTAP), and the Conference of Motion Picture Practitioners of Nigeria (CMPPN). Among other things, he has also been a member of the steering committee for the Motion Picture Council of Nigeria (MOPICON) and has served on the Advisory Council for Federation Panafricaine Des Cinemas (FEPACI), as well as on the jury of the 2015 International Emmy Awards.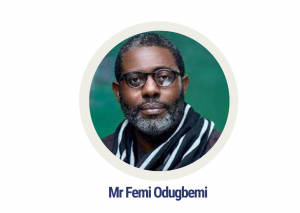 Femi Odugbemi 
Femi Odugbemi is an award-winning Nigerian documentary filmmaker, screenwriter, cinematographer and director. He is the executive director and co-founder of the iRepresent International Documentary Film Festival. Mr Odugbemi, who has spent various decades in Nigeria's film industry, has directed and produced films such as Maroko (2006), Gidi Blues (2016), The Eve (2017), and 4th Estate (2017), and Brethren (2019). He has also directed and produced popular television series like Tinsel, Battleground, and Who Wants to be a Millionaire as well as documentaries like Bariga Boys ( 2009), Life in Lagos (2002), and Metamorphosis (2006). Mr Odugbemi has to his credit many notable documentaries, dramas and commercials shot for numerous Nigeria blue chip and multi-national companies such as Coca-Cola, Nestle, MTN, Unilever, and Cadbury among many others.  mong the numerous functions, Mr Odugbemi has played in the film industry are his roles as a three-time Head Judge on the Africa Magic Viewers' Choice Awards (AMVCA) (2012-2014), Head of Jury of The Uganda Film Festival (2014-2016), and Juror for the Emmy Awards in 2012 and 2016. He has also been a president of the Independent Producers Association of Nigeria (ITPAN) (2002-2006). In November 2013, he received the prestigious Excellence Award of the Society of the Performing Arts of Nigeria (SPAN). He is a key member of the Steering Committee of the Motion Picture Council of Nigeria (MOPICON), Chair of the Board of Thespian Theatre Lagos, as well as Provost of Orange Academy Lagos. Mr. Odugbemi became a voting member of The Academy of Motion Picture Arts and Sciences in the United States in 2018 and has served as the Academy Director (West Africa) for the Multichoice Talent Factory since its inception.