PAU CLUBS
Pan-Atlantic University consists of various clubs set up and run by students to promote activities that form students intellectually, culturally and professionally. Clubs could be academically oriented, sports oriented, service oriented
etc.
Pan-Atlantic University Volunteer Service Project (PAU VSP)
The Pan-Atlantic University Volunteer Service Project is a student run school initiative. It is a weekly based project initiated by the University management as a form of Corporate Social Responsibility done in a bid to enhance the literacy level in surrounding communities. The project was established in November 2016 and is operationally active with over 80 student volunteers. It is currently run in two community centres, Iberekodo community hall and Best Assurance School in Military Estate, Eleko. PAU VSP aims at educating the less-privileged primary school children in these communities by teaching them English and Mathematics, thereby giving them a chance to become successful men and women in the future.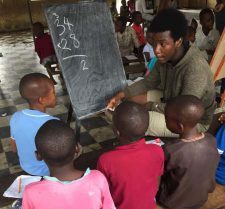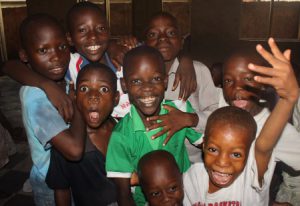 Mission
We are committed to improving the quality of education by reaching out to 500 out-of-school children and any other interested children in these areas.
Vision
To build a future Nigeria with a greater population of educated individuals.
Values
Teamwork
Commitment to community involvement.
Child-centred
Living Green Club
Euphoria Dance Club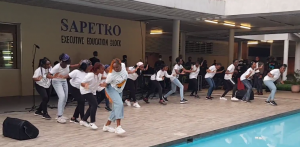 Euphoria is PAU's dance club. It focuses on dance training to keep members in shape and prepare for performances within the school. Euphoria dance club has headlined the Nostalgia concert, Carol of 9 Lessons, Rendezvous at Nightfall, Dia Divertido, and the Coupe De Escrivá finals. Isoken Aruede and Christopher Udoh founded Euphoria while they were students of PAU. 
Euphoria deals in different dance styles like Afrobeat, Salsa, Hip hop, Alternative, Ballet, K-pop, etc. 
Drama Club
University Choir
Entrepreneurship Club
FOCUS
F – Friendship
O – Ordered on
C – Chaste
U – Unconditional
S – Sacrificial love
The Focus club is a safe space to discuss and learn about how to interact and build meaningful relationships based on mutual understanding and respect while still being as assertive as possible. At Focus club, members come together to learn from one another. Different topics ranging from personal to hypothetical situations are brought up and discussed. Every member is given an equal opportunity to contribute and open up new perspectives on relationships whether platonic, romantic, or professional.
Public Speaking Club
Art Club
PAU's art club is society of artist who come together with the aim of improving both their artistic and social skills. Every week, members of the art club meet and work on various tasks. Although the tasks are to be completed individually, artists help each other out to achieve collective improvement. Weekly discussions are held at the end of each task so artists can learn from each other and expand their skills and creative thinking.
Instagram: @artclubpau
Dignity Hub
Dignity hub is a service club run by PAU students whose primary focus is to engage in various charitable works. The aim is to help the underprivileged in our local communities and the world at large. We do this by raising money for various charitable projects through networking and various social functions. Dignity hub harnesses the individual and collective talents of its members for the service of its local communities. With the various club activities, there is the additional benefit of fostering lifelong bonds and friendships among members, which will last beyond the college years.
Vision
1. To develop friendships as an opportunity for service.
2. To become a network of leaders in our communities who come
together to solve various social problems, thus creating change in our
communities and the world at large.
3. To become a community of students and professionals who come
together regularly to share experiences, ideas, and information, thus
harnessing the combined power of each member's skills and talents.
In the past, we have organized some fundraising activities like the "one cookie one kid" and "ride for charity."