​Pan-Atlantic University's highly anticipated Annual Debate Week Competition reached an exhilarating climax on Friday, May 5th, 2023, as Computer Science emerged as the winners of the second edition. Sponsored by Mebs Global, a renowned logistics company, the competition aimed to foster public speaking skills among students while encouraging healthy academic competition.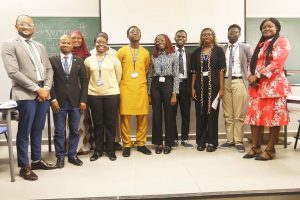 The competition commenced with the quarter-finals on Wednesday, May 3rd, showcasing fierce battles between the departments of Economics, Business Administration, Computer Science, and ISMS, all vying for a coveted spot in the semi-finals. The semi-finals featured intense debates bet​​​​​​​ween Economics and Business Administration, as well as ISMS and Computer Science. Eventually, Economics and Computer Science emerged as the two finalists.
The climactic final debate centered on the topic of whether Nigeria should adopt a confederal system of government instead of a federal one. The Computer Science team passionately defended the federal system, while the Economics team ardently supported the adoption of a confederal system. The debate was fiercely contested, with Computer Science ultimately prevailing with a narrow margin of 319 points, surpassing Economics' score of 318.
The organizers of the debate week expressed their heartfelt appreciation to the management of Pan-Atlantic University for their unwavering support and for providing the platform for students to showcase their exceptional speaking abilities. They also extended their gratitude to the distinguished judges from various faculties who meticulously scored the students' performances.
The overall success of the debate week was evident in the enthusiastic participation of students from diverse departments, as they enthusiastically engaged in intellectual discourse and honed their public speaking skills.
​