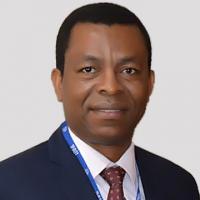 Darlington Agholor
School of Science and Technology
Dr Darlington Agholor graduated from the Department of Mechanical Engineering, University of Ibadan. He later obtained an MSc in Industrial Engineering at the same University and then a Doctorate in Industrial Management at the University of Navarra, Spain.
He is the current Dean of the School of Science and Technology (SST), Pan-Atlantic University. He has been a member of the School of Management and Social Sciences (SMSS) faculty since February 2016. He teaches Leadership and Elements of Management.
Before joining the SMSS faculty, he was a co-creator and later Director of a social enterprise, the Institute for Industrial Technology (IIT), which has become a reference institution in developing middle-level technical manpower for the industrial sector of the economy. He is a member of the IIT governing council. He has over 15 years of management experience in the non-profit sector.
His current research is in mentoring and competency development.
Publications:
Journal Articles
Agholor, D., Lleo, A., & Serrano, N. (2017). Mentoring future engineers in higher education: a descriptive study using a developed conceptual framework. Production, 27(spe), e20162207. https://dx.doi.org/10.1590/0103-
6513.220716
Lleó, A.; Agholor, D.; Serrano, N. & Prieto-Sandoval, V. (2017): A mentoring programme based on competency development at a Spanish university: an action research study, European Journal of Engineering Education, DOI:10.1080/03043797.2017.1415298
Conference paper/Book chapter
Elementos clave para el mentoring universitario: experiencias del programa Tu&CO de Tecnun-Universidad de Navarra. Lleo, A., Perez, I., Ormazabal, M. & Agholor, D. 2017.