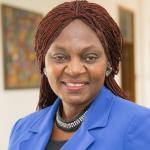 Ifeyinwa Awagu
Institute of Humanities
Ifeyinwa Awagu holds an MSc in Media and Communication, Pan-Atlantic University, Lagos and PhD in Media and Communication in view. She earned an MSc in Psychology, University of Lagos; LL. B from the University of Nigeria, Enugu Campus and BL from the Nigerian Law School, Lagos; B.A. (Ed) English from the University of Nigeria, Nsukka. She is an alumnus of the Leadership Institute, Washington DC; and Character.org National Forum, Washington DC. Her memberships include the International Society for the Study of Behavioral Development, the Nigerian Bar Association and the West African Research and Innovation Management Association. She has been actively involved in the accomplishments of the International Federation of Women Lawyers (FIDA Nigeria) through its Lagos State Branch since 1999, as a member and an officer.
Ifeyinwa Awagu joined the Institute of Humanities, Pan-Atlantic University, Lagos in 2015 as a faculty member, and teaches general studies courses and some media and communication courses. Her research interest spans from the intersection between culture, civilization and human dignity, to advocacy, social policies and cultural studies. She is interested in taking research outcomes in social sciences and humanities beyond publishing, through research uptake and research uptake management.
Prior to joining PAU, she had over 20 years of experience in activism in pro-family and pro-life causes; with specific interests in family enrichment, women and youth empowerment. She volunteered consultancy and other services to pro-family and pro-life NGOs; schools and faith-based organizations. Her encounter with the youths empowered and helped them on the path to a fulfilled life and in fostering stability in family relationships. These attracted an invitation to offer counselling services to students, staff and families of Lagoon School Lagos for 6 years. This accomplished gains in the quality of the overall relationships and learning environment. All her endeavours culminated in a Papal recognition by, and an audience with Pope Francis at the World Meeting of Families in Philadelphia in 2015. In her earlier career experiences, she worked as a counsel in the law firm of Handel Okoli and Associates; and as a principal counsel in I.V Awagu and Co.