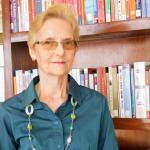 Imelda Wallace
Institute of Humanities
Imelda Wallace did her Primary and Secondary Education at Loreto College, Llandudno, in North Wales. She left school in 1960 after passing her GCE A-Levels (English, Latin and French) and gained admission to the University of Manchester. She graduated in 1963 with a B.A. Degree in English and Italian. From 1963 she worked as Assistant Warden in Ashwell House, a Residence for university students in London.
She obtained her Ph.D. in Education from the University of Navarre in 1968. On her return to Britain she worked as Warden of Derwen Deg, a Residence for women students of the University of Bangor in North Wales and gave lectures in History of British Education and Philosophy of Education in St. Mary's Teacher Training College.
In 1972 she was invited to Nigeria to work in the setting up and running of Educational projects for women. She was the Principal of Lagoon Bilingual Executive Secretarial College for Women, the first College of its kind and worked there 18 years from its inception in 1972. She has been actively involved in tertiary education, teaching philosophy and educational sciences in seminars and workshops for Nigerian university students – undergraduate and post-graduate – and professional women, in different States.
She worked for the Nigerian Association for Women's Advancement [NAWA], teaching and tutoring in The Lagoon Secondary School in Lagos from 2002-2014 and organizing in the Family Enrichment Programmes for parents.
When Pan-Atlantic University started its programme for undergraduate students on the main campus at Ibeju-Lekki in 2014 she took up a post as Lecturer in the Institute of Humanities and has been there ever since.
PUBLICATIONS
"The Rights of Parents in Education" – in Towards Freedom of Education , Lagos, Criterion 1991.
"Ethics: Added Value in the Workplace". Business and Management Journal – a quarterly publication of Michael Stevens Consulting, July-September 2011.
"Verse come, Verse served". A book of 30 poems on acquiring virtues written for young girls. (September 2011)
"Come One, Come All". A book of 34 poems on acquiring virtues written for young boys. (2012)
e-book chapter – "The Spirituality and the Dignity of Work as self-development and service" co-authored with Chantal Epie in New Thoughts about Work: Theoretical and Practical Aspects, Interdisciplinary Press, Oxford, UK. 2012
Updated: 12th May 2021