Dr Sola Oni is the Dean of the School of Management and Social Sciences(SMSS) at Pan-Atlantic University.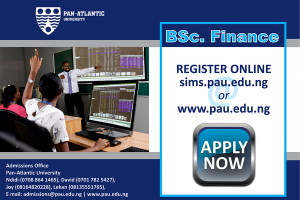 In this spotlight, she announced the new programmes launched by SMSS and highlighted the competitive edge Pan-Atlantic University offers students.

She enumerated the significance of newly launched programmes by the School of Management and Social Sciences (SMSS) at Pan-Atlantic University as a new development in the academic landscape of Nigeria. These programmes will equip students with the necessary skills and knowledge to excel in the ever-evolving financial and economic sectors.In addition, Pan-Atlantic University offers a unique learning experience that sets it apart from other schools. The university's focus on entrepreneurship and innovation ensures that students gain academic knowledge and practical skills that will enable them to create and manage successful businesses.Pan-Atlantic University emphasizes ethics and social responsibility, instilling in students a sense of duty towards society and a commitment to using their knowledge and skills for the greater good. The university's faculty consists of accomplished academics and experienced practitioners, bringing a wealth of industry knowledge and expertise to the classroom.Furthermore, the university's state-of-the-art facilities, including a world-class library, modern lecture halls, and cutting-edge technology, provide students with a conducive learning environment that fosters academic excellence.In conclusion, the launch of the BSc in Finance and MSc in Economics programmes by the SMSS at Pan-Atlantic University is a testament to the university's commitment to providing students with the knowledge, skills, and practical experience needed to succeed in today's competitive job market.
Click below to watch the video interview.