Pan-Atlantic University hosted representatives of the National Universities Commission (NUC) for the evaluation of the Student Industrial Work Experience Scheme (SIWES). The visiting team assessed the university's adherence to the guidelines and processes of the Student Industrial Work Experience Scheme (SIWES) for 300-level students.
During the visit, Dr Peter Bamkole, the COO of Pan-Atlantic University, with the management team, warmly welcomed the NUC representatives, demonstrating the institution's commitment to hospitality and collaboration. A productive brainstorming session took place, allowing bo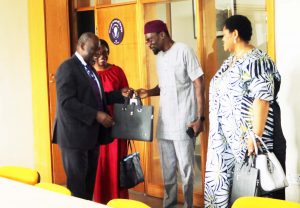 th parties to exchange ideas and insights on how to further enhance the SIWES programme.
The engagement concluded on a positive note. This interaction marks a robust relationship between Pan-Atlantic University and the NUC, emphasizing the shared goal of providing students with a practical and well-rounded educational experience.
Pan-Atlantic University remains committed to continuously improving the SIWES programme, ensuring that students receive valuable hands-on training and exposure to real-world scenarios. The University believes that this collaboration with the NUC will further strengthen its commitment to excellence in education.