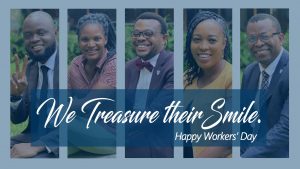 On this special occasion of Workers' Day, We are delighted to extend our heartfelt gratitude and appreciation to all the workers who make our institution great.
We recognize that the contribution of our dedicated workers is vital to the growth and success of the university. Our staff, faculty, and administrators have shown a remarkable commitment to their work, and we are proud to have such an outstanding team.
As we celebrate Workers' Day, we encourage everyone to reflect on the importance of work and the value of every worker. We appreciate the resilience and dedication of our workers who have continued to provide excellent services despite the difficult circumstances.
We also acknowledge the essential workers in our society, and all those who have continued to work to keep us safe and provide essential services.
On behalf of the Pan-Atlantic University community, we wish all workers a Happy Workers' Day. Let us continue to work together towards a better future.