At Pan-Atlantic University, our commitment to fostering entrepreneurship and innovation is evident through our Entreprise Development Centre (EDC). Recently, the EDC hosted the sixth cohort of the Embedded Enterprise Education(EEE) learning journey, with a primary focus on the "Impact of Entrepreneurship Education Curriculum in Nigerian Universities."
During the Day 4 of the event yesterday, we hosted distinguished guests, including professors and leaders representing various Nigerian institutions that have been at the forefront of championing entrepreneurship initiatives on their respective campuses at our university main campus.
A highlight of the event was a student panel session on "Enterprise Education Impact," expertly facilitated by Halima Rabiu, Project Support Coordinator at EDC. This session featured remarkable students—Damaris Ogunlela, Andikan Ntia-James, Toluwaninse Odewabi, and Amirah Yakubu—each sharing their unique entrepreneurship stories. These students are actively engaged in projects such as "the wellness hub" and "Educational Virtual Assistant," demonstrating how they've been given opportunities to turn their entrepreneurial ideas into reality. They spoke passionately about their experiences, including taking entrepreneurship courses, engaging in peer reviews, and benefiting from invaluable mentorship.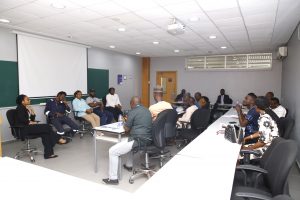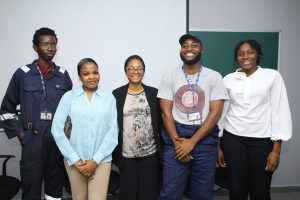 Amirah Yakubu, while addressing the audience, emphasized the role of technology in breaking barriers and facilitating innovative solutions. "Technology is just the aid to the solution we are providing," she remarked, highlighting the transformative power of technology in their ventures.
Following the panel session, an insightful fireside chat ensued with our Vice Chancellor, Prof. Enase Okonedo, discussing the topic "Supporting EDC to Thrive." The conversation, facilitated by Mrs. Nneka Okekearu, Director of the Enterprise Development Centre,  delved into various aspects of entrepreneurship and its impact. Also present at the fireside chat was Dr. Peter Bamkole, Chief Operating Office of PAU.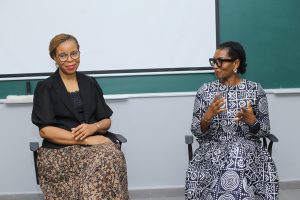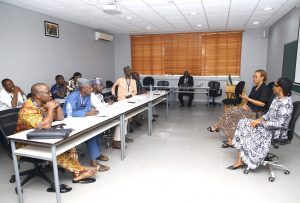 Key points of discussion included the importance of practical learning, evidence-based research, succession planning in university leadership, sustaining an entrepreneurial spirit, articulating EDC's mission across universities, and recognizing the substantial contribution of the informal sector to Nigeria's GDP. The Vice-Chancellor also emphasized the power of partnerships, consistency in service delivery, focusing on the goals we want to achieve, ethical business practices, and the pivotal role of innovation.
The attendees lauded Pan-Atlantic University's unique approach to entrepreneurship, its commitment and organizational skills, and its practice of encouraging students from diverse academic disciplines to collaborate on entrepreneurial ventures. The event underscored our commitment to nurturing a culture of innovation and entrepreneurship within our university community.
We look forward to more fruitful collaborations and endeavors in the world of entrepreneurship education.