In a remarkable debut, TEDx Pan Atlantic University (TEDxPAU) made its mark on the intellectual landscape as it brought together industry leaders and visionaries at the Lagos Business School, Pan-Atlantic University on the 4th of November, 2023. With the resonant theme "RETHINK," this inaugural event proved to be an unforgettable day, brimming with wisdom, networking opportunities, and an awards presentation to recognize the contributions of the outstanding speakers.
The maiden edition of TEDxPAU was a resounding success, marked by an impressive turnout of enthusiastic attendees. Distinguished professionals from diverse backgrounds and industries shared their insights, making it an occasion to remember. The event featured a remarkable lineup of speakers, each with a unique perspective and a wealth of experience.
The distinguished speakers included:
Carl Cruz: CEO of Airtel Nigeria.
Eizu Uwaoma, PMP®, MBA: CEO of Hexavian Group.
Dr. Kennedy Nnadi, FCAI: CEO of Pennek Group.
Akachukwu Okafor: Co-founder and Chief Technology Officer at Shuttlers.
Ayodeji Razaq, eMBA: CEO of Red Group.
Jide Sipe, MNIPR, MNIMN: Head of Communications at Ecobank.
Dr. Ikechukwu Obiaya: The Dean of the School of Media and Communication (SMC) at Pan-Atlantic University.
Professor Enase Odu Okonedo: The esteemed Vice-Chancellor of Pan-Atlantic University.
TEDxPAU "RETHINK" was made possible through the dedicated efforts of Bella Victor, an alumna of Pan-Atlantic University, who led a team of passionate volunteers. Their tireless commitment and hard work ensured the event's resounding success and was pivotal in its execution.
The event was more than a platform for sharing knowledge; it was an opportunity for participants to challenge their perspectives and embrace new ideas. Topics ranged from leadership and business to technology and communication, encouraging attendees to explore innovative ways of thinking.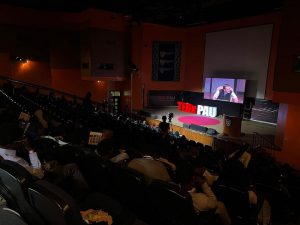 In addition to the enlightening talks and captivating discussions, TEDxPAU "RETHINK" also featured the presentation of awards to recognize exceptional achievements by outstanding individuals. This added a layer of prestige to the event and highlighted the commitment of Pan-Atlantic University to celebrating excellence.
The inaugural TEDxPAU event left an indelible mark on all who attended, inspiring them to embrace change, challenge the status quo, and continue to explore new horizons. It served as a reminder of the power of ideas and the potential for positive change through thoughtful discussions and innovative thinking.