On May 26, 2023, a distinguished delegation from the University of Technology Sydney (UTS) visited Pan-Atlantic University (PAU) to explore potential areas of collaboration between our esteemed institutions. This visit marked an important milestone in fostering academic partnerships and knowledge exchange between Australia and Nigeria.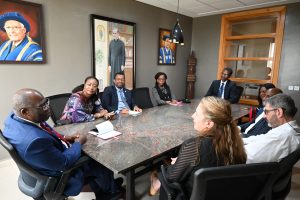 The UTS team, consisting of Associate Professor Marco Navone from the UTS Business School, Ruth John, Partner Manager for Africa, Williams Odah, Business Development expert, and Kristie Marcollini, Regional Manager for Oceania and Africa, was warmly welcomed by our Chief Operating Officer, Dr. Peter Bamkole, along with the Deans of Schools on our main campus – Dr Olusola Oni (SMSS), Dr Ikechukwu Obiaya (SMC), and Darlington Agholor (SST) and our Communications Manager, Mrs. Temitope Falade.
During their visit, productive discussions were held, exploring various avenues for collaboration in research, academic programs, student and faculty exchanges, and joint initiatives. The shared vision of both institutions to foster innovative solutions and contribute to societal development formed a solid foundation for fruitful engagement.
The visit by UTS representatives has set the stage for a promising partnership between our two institutions. We believe that this collaboration will provide valuable opportunities for students, faculty, and researchers to engage in cross-cultural learning experiences, exchange ideas, and contribute to innovative solutions that address global challenges.
We extend our sincere appreciation to the UTS team for their visit and look forward to working closely with them in the coming months to develop and implement collaborative initiatives. Together, Pan-Atlantic University (PAU) and the University of Technology Sydney (UTS) aim to forge a strong academic alliance that will benefit our respective communities and contribute to the advancement of knowledge on a global scale.