Pan-Atlantic University, in collaboration with LG Electronics Nigeria and Solution17 for Climate Action, hosted an inspiring event called "Food-A-thon" aimed at fostering sustainable solutions and driving climate action.
The event, which took place at the university's main campus, brought together notable speakers, panelists, and young change-makers to address the pressing challenges related to food security and climate change.
The gathering commenced with a warm welcome from Dr. Peter Bankole, the Chief Operating Officer of Pan-Atlantic University, who conveyed a message on behalf of the university's leadership. Dr. Bankole expressed the institution's commitment to environmental sustainability and its pride in partnering with Solution17 and LG to tackle climate-related issues.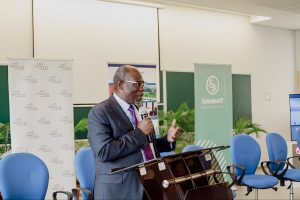 Princess Marinay, a Solution17 Climate Communicator, delivered the opening remarks and enlightened the audience on the potential of creating sustainable solutions through youth action. Her inspiring words set the stage for an engaging and transformative discussion.
Foluke Michael, the CEO and Project Director of Solution17, took the stage to shed light on the Foodathon initiative in Nigeria, reflecting on Solution17's past achievements, current endeavors, and future prospects. Foluke drew attention to the staggering amount of food waste, with food being the largest category of material discarded in municipal landfills. She emphasized that this wastage alone could have fed 1.3 billion hungry people annually. She affirmed that Solution 17 will spearhead bold and actionable solutions to expedite the transformation of our agri-food systems, fostering climate action.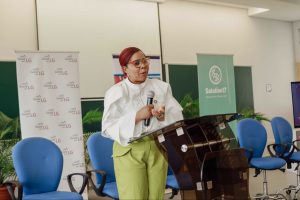 Highlighting the event was a keynote address by His Excellency Hon Umar Mohammed Bago, the Executive Governor of Niger State, represented by Alhaji Abubakar Usman, the Secretary to the State Government. Governor Bago's speech emphasized the importance of proactive measures to combat climate change and commended the partnership between Pan-Atlantic University, LG, and Solution17 for their significant contribution in this regard.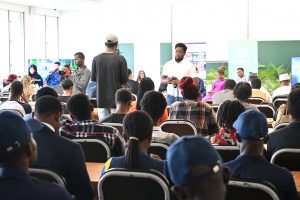 A panel session titled "Fostering Youth-Led Innovation to Drive AgriFood System Transformation and Climate Action" brought together six remarkable individuals, including two students from Pan-Atlantic University's Living Green Club, Samuel Oyefusi and Enuma Bosah. The panelists engaged in a lively discussion, sharing their insights and ideas on how youth-led innovation can positively impact the agricultural and food systems, while simultaneously addressing climate change. They also highlighted the potential of robotics in addressing the issue of food insecurity, as it presents a viable solution.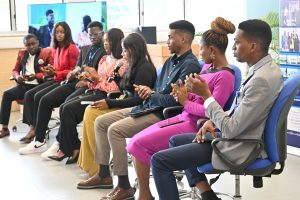 In a bid to contribute to a greener environment, a tree planting exercise took place during the event. LG generously sponsored the planting of 50 trees, further emphasizing their commitment to innovation and global sustainability. HariKrishna Elluru, the LG Marketing Manager, shared valuable insights on LG's innovative practices and their dedication to sustainable development.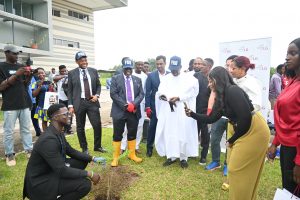 Haoma Worgwu, a Solution17 Specialist, delivered a thought-provoking presentation on sustainable tree planting as a catalyst for food security. Worgwu highlighted the integral role trees play in maintaining ecological balance, enhancing biodiversity, and ultimately securing a more sustainable future for generations to come.
The "Food-A-thon" event concluded with a sense of optimism and motivation, leaving attendees inspired to take action and contribute to climate solutions in their respective communities. Pan-Atlantic University, LG, and Solution17 reaffirmed their commitment to collaboration and continuous efforts in driving positive change in the face of climate change and food security challenges.
This event serves as a testament to the power of partnerships and youth-led initiatives in creating sustainable solutions and fostering a brighter future for all.